News
HC ALKALOID ONCE AGAIN BETTER THAN HC BUTEL SKOPJE
-->

HC ALKALOID – HC BUTEL SKOPJE 22-19 (12-8)

Sports venue: "Avtokomanda" in Skopje. Referees: Metodija Ilievski and Mihajlo Ilievski. Delegate: Kamer Metalari

HC ALKALOID: Galevski, Trajkovski, Djonov 4, Petrov, Markoski, Mladenovikj 1, Serafimov 6, Stojkovikj 1, M. Mitev 5, Gjorgiev 2, Ivanoski, Omeragikj, Kofiloski 1, Petkovski 1, D. Mitev, Savrevski

Seven-metre throws: 6/7 Suspensions: 12 min.

BUTEL SKOPJE: Simjanovski, Subashevski, Mladenovski 1, Stojanovski, Georgievski 2, Nikolov 7, Mojsoski, Spasovski 3, Stojchevikj, Manaskov 3, Blazevski, Jeftikj 3, Vasilevski, Mihajlovikj, Majikj

Seven-metre throws: 5/5 Submissions: 10 min.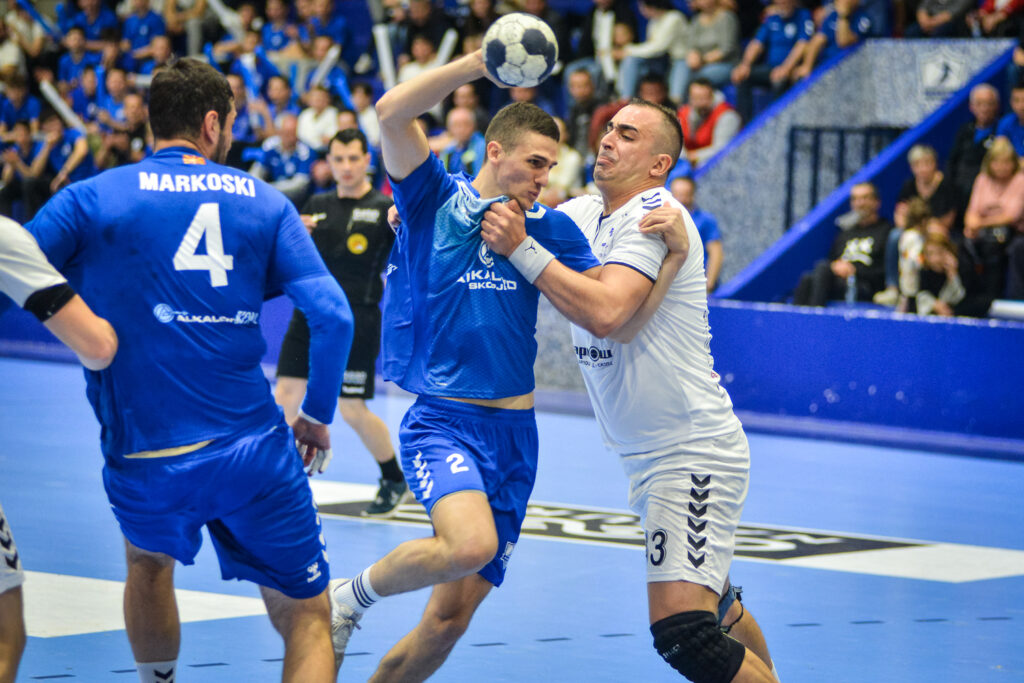 Just one week after the Cup of Macedonia match, HC Alkaloid and HC Butel Skopje met again on the field, but this time in a battle for championship points.
The end result was the same, our team won again, this time with less score uncertainty, but just like a week ago with a big and merciless fight on the field.
Our team started the match better, we took a 4-1 lead, but the visiting team managed to get back into the game, even reached an even score (7-7), but not once in this match was HC Alkaloid in the negative.
Shortly after this, HC Alkaloid regained control and went on break with a four-goal advantage (12-8).
The second half also had strong duels, tension and score excitement were more present in the first phase of the half. The visiting team managed to even the score and in a short period the game was tied.
But in the critical period of the match, carried by the good defense, the excellent interventions of the goalkeeper Blagojce Trajkoski and the lucid goals of Marko Mitev, our team once again took control of the score and led with 21-17. After this, the team routinely brought the match to the end and the final score was 22-19.
Now HC Alkaloid has secured the third place in the table with 12 points won before the visit to Bitola, with the team of E. Pelister 2.