News
HC MULTI ESSENCE IS A NEW MEMBER OF THE SUPER LEAGUE!
-->

HC METALURG RA – HC MULTI ESSENCE 25-30 (11-13)
Sports venue : "Avtokomanda" in Skopje. Referees : Gjorgi Vasilevski and Blaze Mihailov. Delegate: Mitko Gjorgievski
HC METALURG RA: Angelovski, Bozinovski 3, Georgievski 2, Jankulovski, Filipovski 3, Aksentiev, Panovski 1, Ristovski 1, Stojchevski, Ivceski, Gilev 2, Naumovski 13
Seven-metre throws: 6/7 2-minute Suspensions: 8 min.


HC MULTI ESSENCE: Štakovski, Dimevski 3, Grujevski 1, Dimitrievski, D. Uzunchev 4, Trichkovski 7, Omeragikj 3, Velkov, Ermanoski, Mladenovski 1, T. Uzunchev 1, Prodanovski 4, Jordanov 4, Karasmanakis, Kostovski 2, Georgievski
Seven-metre throws: 4/4 2-minute Suspensions: 12 min.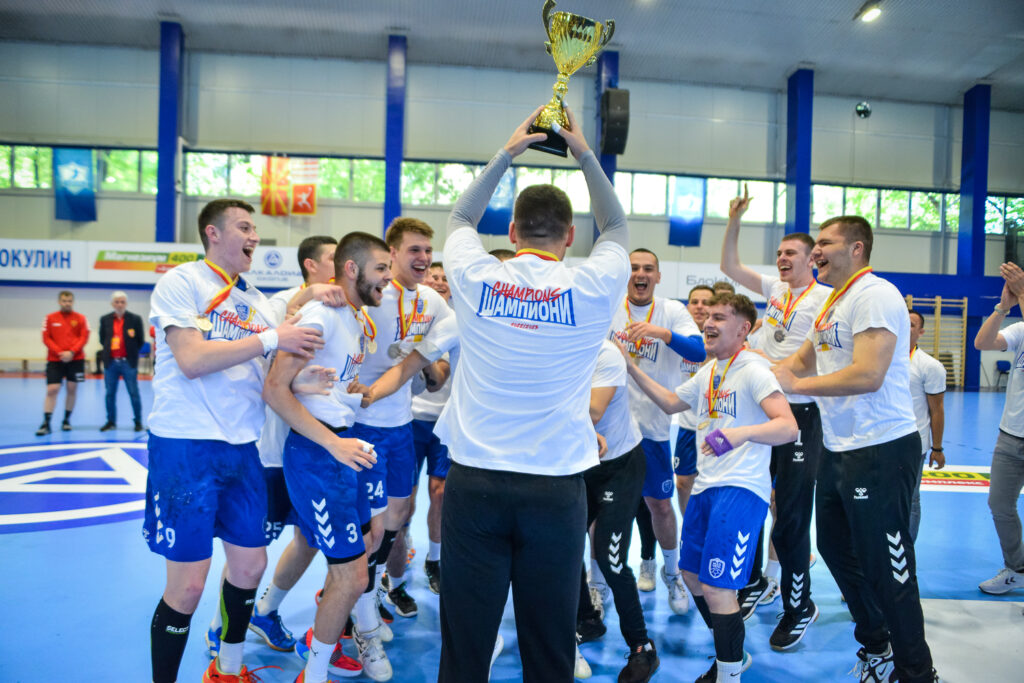 The HC Multi Essence team won their 15th playoff game out of a possible 18 wins by defeating the HC Metalurg RA team as a guest (30-25). With this win, our team established an insurmountable lead over the rivals in the final three rounds and took first place in the championship, which also guarantees a spot in a higher level, i.e. in the SuperLeague the following season!

It is noteworthy that our team succeeded to win 23 out of the total 23 games they played, not just in the
playoffs but throughout the entire season. Following the game, Filip Miloshevski, general secretary of the Handball Federation of Macedonia, awarded our players gold medals and the championship cup for winning first place in the First League!