News
HC ALKALOID SECURES PLACEMENT IN F4!
-->

HC VARDAR NEGOTINO – HC ALKALOID 23:36 (16:17)

Sports venue: "Avtokomanda" in Skopje. Referees: Gligor Kjaev and Spasko Kjaev. Delegate: Aco Nikolovski

HC VARDAR NEGOTINO: Acev, Mihajlovikj, Tashev, Gjorgjev, Kuzmanov 4, Oreshkov 1, Mitevski 3, Angelov, Emini, Petrov, Kocharov 1, Adamovikj 9, Peovski 3, Matovski 2

Seven-metre throws: 3/5 Suspensions: 4 min.

HC ALKALOID: Galevski, Trajkovski, Stojkov 6, Mladenovikj 2, Serafimov, Ilieski, Stojkovikj 4, M. Mitev 4, Gjorgiev 1, Ivanoski 1, Simonoski 4, Omeragikj, Todeski 1, Kofiloski 4, D. Mitev 7, Savrevski 2

Seven-metre throws: 5/6 Suspensions: 8 min.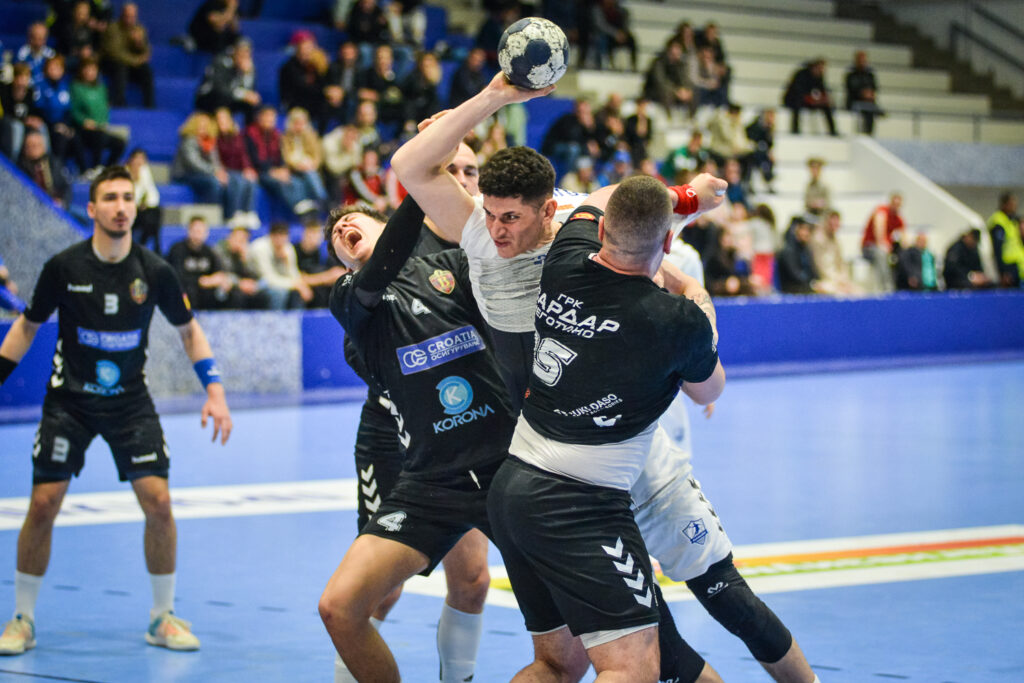 HC Alkaloid qualified for the final four tournament of the Cup of Macedonia for the first time in its history. Tonight, in the group final that took place in Avtokomanda, HC Alkaloid defeated HC Vardar Negotino and secured placement among the four best teams in this competition.
Coach Kiril Lazarov combined the lineup for today's final. Several handball players who fought exhausting duels yesterday in the match with Butel Skopje, were spared today, and tonight other players from the roster got a chance to play.
To a certain extent, this contributed to the first half being an evenly scored match, in which, however, HC Alkaloid was the team that controlled the score.
At halftime the score was 17:16 for HC Alkaloid, and all doubts about the final winner disappeared after only five minutes of play in the second half. The HC Negotino team failed to score a goal in the first five and a half minutes, HC Alkaloid scored four and led with 21-16, which was the key turning point in this match.
Therefrom and until the end of the match, HC Alkaloid without any drops in the score, completely controlled all the developments on the field and won with astonishing 36:23.
With seven scored goals, young Damjan Mitev was our team's best scorer in this match, who for the first time got a chance to play with bigger responsibility and more time. Behind him on the list of scorers was the wing Aleksandar Stojkov with six goals.
Next in the Cup of Macedonia, HC Alkaloid will continue to the final four tournament together with the teams of HC T. Prolet, HC Vardar 1961 and HC E. Pelister