-->

HC Alkaloid announced its participation in the new Super League season with a stronger player roster and a new coach. Rounding off its first season with exceptional results and an unbeaten run, the senior team won the First League winners' cup by a large margin over the second-ranking team and secured direct placement in the Super League.

Right before the new 2022/2023 season, HC Alkaloid strengthened its team with 8 new players, among them: Jane Cvetkovski, Blagojche Trajkoski, Nikola Markoski, Mihajlo Mladenovic, Edvin Omeragic, Marko Mitev, David Dimevski and Aleksandar Petkovski.

Kiril Lazarov is the new coach of HC Alkaloid who is the greatest Macedonian handball ace and current head coach of the senior national team.

Standing strong before new challenges, including playing in the toughest competition, the Super League, HC Alkaloid is ready to start the new season with a purposefully modified stronger team, a firm ambition and clear focus on its development for the good of Macedonian handball. The club remains consistent to the principle of growth and development into a quality base for young Macedonian handball players, which in the long run would be a nursery for domestic handball talents and future Macedonian national team players.

One of the club's development goals for the upcoming season is to continue upgrading its system established when the club was founded focusing on real sports as well as life values developed and encouraged in a properly organized and professional sports system.

HC Alkaloid completed its first season successfully at every organizational and category level. In addition to the successes of the senior team, the club's youth team became the champion of Macedonia, the cadet team was a F4 finalist, and the pioneers reached the quarter-finals. It is particularly important that the club managed to assemble a team of young Macedonian handball players, to whom it provided modern work conditions, and which contributed to the increase of the representative base in all age categories.

All information related to HC Alkaloid is available on the official club website:

The website is regularly updated with information and photos from all matches, club news as well as future plans and projects.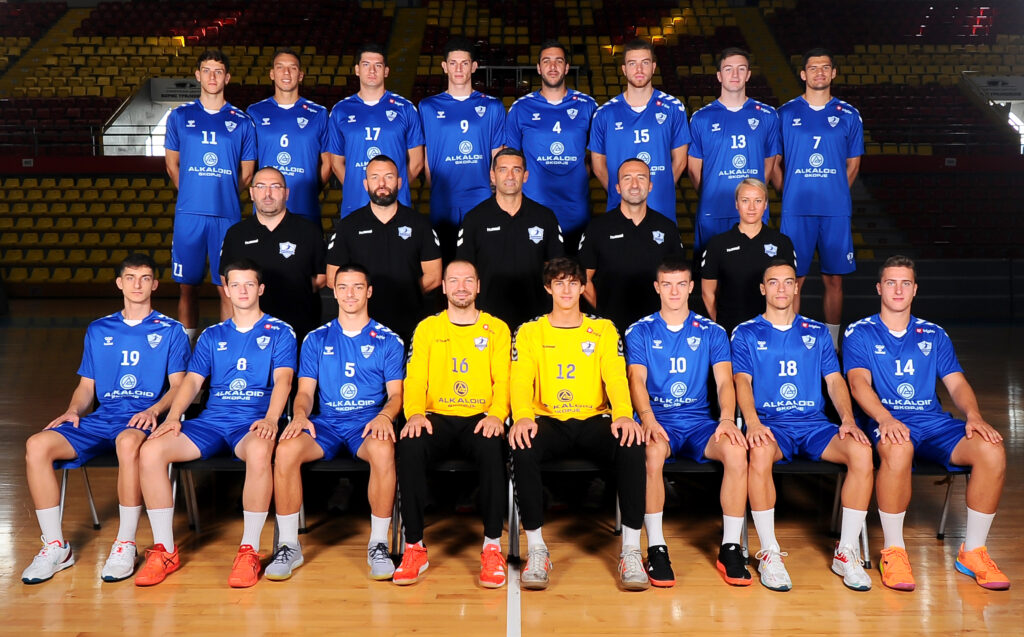 The HC Alkaloid Team for the 2022/2023 Season
Players:
1. Jane Cvetkovski – goalkeeper
2. Ivan Galevski – goalkeeper
3. Blagojche Trajkovski – goalkeeper
4. Dario Kofiloski – left wing
5. David Dimevski – left back
6. Edvin Omeragic – left back
7. Teodor Todeski – left back
8. Mihajlo Mladenovic – left back
9. Bozidar Ilieski – middle back
10. Marko Mitev – middle back
11. Igor Gjorgiev – middle back
12. Martin Serafimov – right back
13. Mihail Ivanoski – right back
14. Aleksandar Petkovski – right wing
15. Aleksandar Stojkov – right wing
16. Nikola Markoski – pivot
17. Marko Stojkovic – pivot
18. Kristijan Simonoski – pivot
Staff:
Head Coach: Kiril Lazarov
Assistant coach: Biljana Crvenkoska
Fitness trainer: Petar Basnarkov
Physiotherapist: Toshe Ristovski
Management:
President of the club: Goran Minov
Operation director: Milosh Miloshevski
Sports director: Ljubomir Savevski
Technical Secretary: Anita Vuchidolova