News
SENSATIONAL VICTORY FOR HC ALKALOID!
-->

HC ALKALOID – HC VARDAR 1961 22-21 (13-10)

Sports venue: "Avtokomanda" in Skopje. Referees: Gjorgji Nachevski and Slave Nikolov. Delegate: Aco Nikolovski

HC ALKALOID: Trajkovski, Petrov 2, Markoski, Mladenovikj 3, Serafimov 7, Ilieski 3, Stojkovikj, M. Mitev, Gjorgiev 2, Galevski, Ivanoski, Simonoski, Omeragikj, Kofiloski 3, Petkovski 1, Savrevski

Seven-metre throws: 5/5 Suspensions: 8 min.

HC VARDAR 1961: Tomovski, Manaskov 3, Jagurinoski, Stoilov 3, Alarov, Morales 2, Georgievski 3, Karapaleski 1, Chuvara, Lazarevski, Taleski 4, Dutra 1, Markoski, Kjosevski, Ristovski, Mishevski

Seven-metre throws: 5/5 Suspensions: 8 min.
HC Alkaloid was a real sensation tonight with the victory in the round derby over the current champion Vardar 1961 and a score of 22-21.
Our team played a great game tonight and controlled the score from the beginning of the match. Mihajlo Mladenovikj had excellent performance in the first phase, and the goalkeeper Blagojche Trajkoski demonstrated from the very start that he was extremely ready to play and that he would be a strong weapon and support for the defence.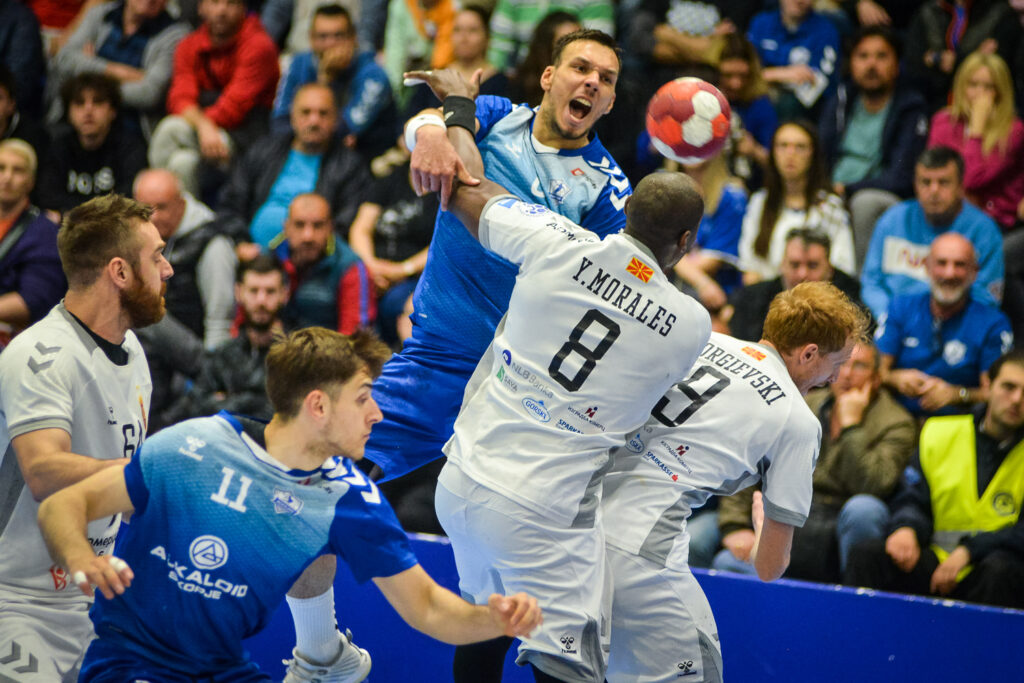 HC Alkaloid led with 5-2, 8-4 and with the 11-5 score in the twentieth minute, they forced the coach of the away team to ask for a time out for the second time. In the 25th minute, HC Alkaloid led with a maximum seven goal difference (13-6). In the next phase of the match, the more experienced away team got into a rhythm and scored four goals by halftime, and went on break with a 13-10 result.
In the first ten minutes of the second half, HC Alkaloid maintained an advantage of two to three goals, but in the 41st minute, the away team managed to even the score for the first time in the match (15-15). Our team's response was three consecutive goals and a new lead of 18-15.
The match entered the final phase, and the away team managed to take a 21-20 lead in the 56th minute. It was the first and only lead for Vardar, HC Alkaloid scored two more goals before the end of the match and managed to defend their goal for a big 22-21 win.
Blagojche Trajkoski had 15 successful interventions, and Martin Serafimov was the best scorer with seven goals. Bozidar Ilieski, Mihajlo Mladenovikj and Dario Kofiloski each scored three goals.